I've got myself a 'new hairstyle'! Marcus (Ching's boyfriend) straightened my fringe and cut it short. I asked him to help me trim my ends, so I sat there and he started to trim, trim, trim. Slowly, he passed me a lil bunch of my hair from the left, then another from the right, and the back, and the middle, gosh! I ended up having a totally different hairstyle! I freaked out a lil at first, but everyone says I look much younger now...

Another new thing I've got is a new job 2 months back, at MXM International; it's a sister company of my previous company. The people in this new company are younger and we don't have to wear office attire to work, plus, every Friday is a Dress Code day. Dress Code day is where a theme is pre-selected and then everyone will have to work on their creativeness and dress up. They who do not dress up accordingly will be fined a fee of RM5, and there is a winner for every theme, he gets the fines plus RM50. Kinda interesting...
These pictures will show you my new look, taken during Chinese New Year at my office when the Lion Dance came to bring us luck! Heehe

What do you think?
These photos are taken on an event of my company at Shangri-la Hotel. The theme on that night was Red and Gold. Old hairstyle.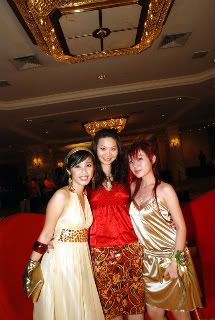 So do you all agree that I look younger now? =D This weekend, Ching and I will be going to A Cut Above to have our hair done, I can't decide on what to do, suggestions?