Chyi, Yi-Shen and I went to Genting a few months back, I can't really remember when. We stayed at Awana Hotel, which means we can cook up there! So Chyi and I went shopping for food before going up. One of the things we enjoy most!
We bought lemang on our way, it is something we definitely buy whenever we go to Genting. The lemangs taste very good sometimes when it's very salty!
Chyi trying it out first
The weather wasn't too cold, mainly because we stayed at Awana, which was not so high up. We unpacked and gave the utensils a wash before we cooked anything. Some of the utensils were so gross! I brought our own sponge up to wash the dishes, because the sponge they provide is always like 5 years old already! (given that 5 years old is the oldest a sponge can get, which they are already half dead and ready to be buried)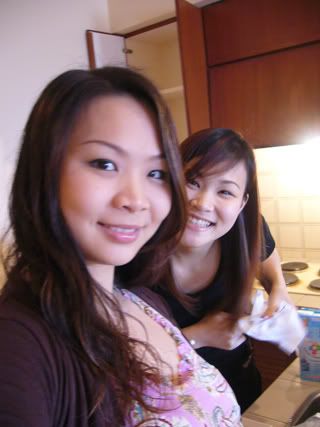 Oh now I remember exactly when did we go, it was my birthday! So I gave them a dinner treat at Spice Garden, a northern cuisine restaurant. We ordered tandoori chicken, sambal prawns, and curry lamb with a few kinds of naan.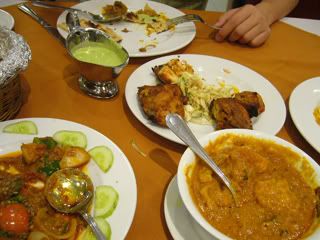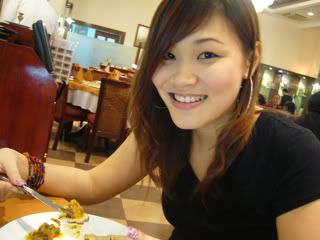 Disappointingly, nothing was spicy enough for us. We expected it to be extra spicy since the restaurant manager warned us the food is spicy! I love spicy food! Nevertheless, the food was considered good. We're planning to go to the one in Subang very soon.
We went to Starbucks for drinks, took loads of pictures; Mostly self-obsessed photos.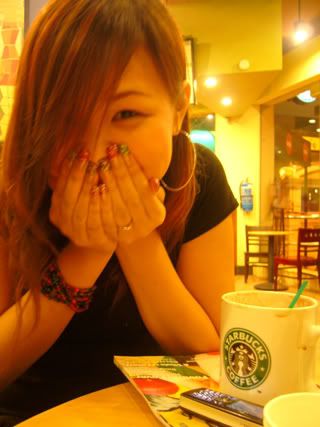 Chyi trying to act as if it is super cold and to show off her fingernails!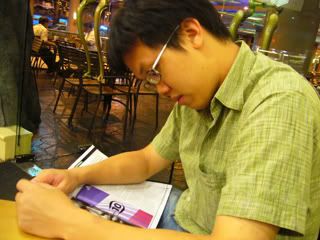 Yi-shen not pretending to read, he was really reading while we sisters enjoyed ourselves taking stupid pictures...
This is a picture taken by yi-shen, seldomly he takes nice pictures of me.. I always complain coz other people always get nice nice pictures of themselves because I always know how to take nice angles; to make them look slimmer, prettier, nicer, fairer, taller, longer legs (ok I'm exaggerating)... but me? What about me? My pictures in the pc that are nice are always self-taken! I am gonna vomit looking at them soon! Why can't someone help me take nice pictures of myself? Hate it...
I shouldn't end my post this way, it sounds like I'll still be upset the whole day. BUT I AM!!!!
=D