Right after arriving KL, Yi-Shen, Su and Julian and me headed for Penang to spend the long weekend there. We did not prepare food supply for the journey, so when we stopped at one of the highway R&R, Yi-Shen wanted to have some fish.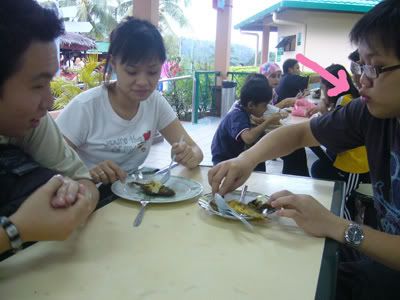 Very weird to stop and eat fish only right? He said he and his family will surely stop at this particular place for their fish whenever they pass by. So that explains his mouth in the photo!
It was a rather long journey because it kept on raining and the traffic was rather congested. It took us 5 hours or more (I didn't really keep track) for us to finally arrive Penang. We stayed at Yi-Shen's Grandfather's house, a nice old bungalow with a spacious garden and a super obedient dog.
Julian had to have Oh-Jian that very same night we arrived, so guess what? only an hour after we had our dinner, we went to have supper. Su can really eat when she is back in Penang, Julian showed me the picture of her taken the previous visit to Penang, her face was round and happy! Hahahah!
The next day, we went to a market to have our breakfast, after that, we played
tikam
at a small shop.
Unlike the city boys,
I know what
tikam
is,
do you?
although I never wanted to try playing it before.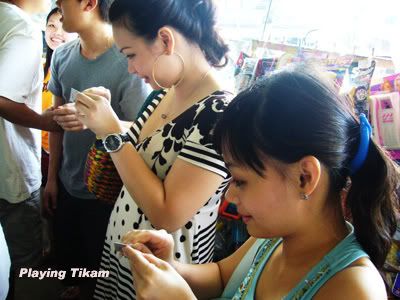 Trying our luck to win a brand new handphone.
Imagine kids saving up their money and spending the money on this, trying out their luck and most of the time, their hard-saved money is wasted. Actually
tikam
infact is gambling, parents should ban their kids from playing tikam! Kids will hate me for this...
Then, because Chyi did my nails for me, and this time there are bling-blings on it, I didn't want to wash my hair myself as I don't want to spoil my nails. So Su and I went to have our hair washed at a hair salon. I asked the lady to scratch hard because my head is so darn itchy after not washing it for 2 days! Heheh... don't say I am dirty, a lot of girls don't wash their hair everyday ok?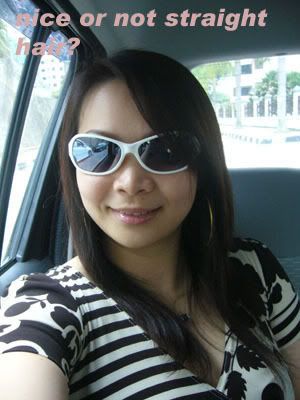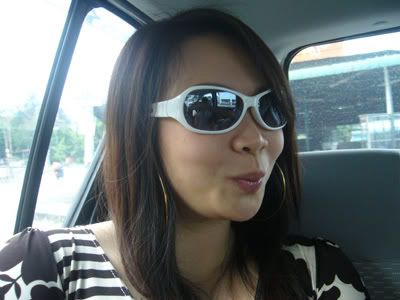 Off we go to eat again!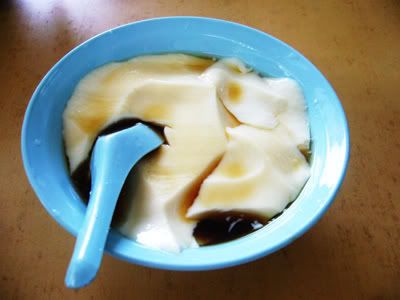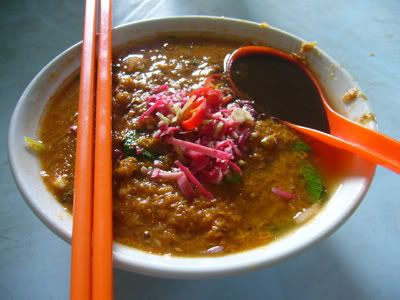 Yi-Shen's cousin, AhLoon and his girlfriend, Ah Suan was very nice to bring us around and accompany us. They could have spent their weekend paktoh-ing.. They are very nice people.
We were at Gurney Drive during New Year's Eve, the amount of people there was
A LOT!
But luckily, because the beach was big, there were places for us to sit down
(but you can't see the performance on stage from here, although we don't want to see also lah)
and wait for the count down. It was cooling and nice, we had ice-creams and took pictures.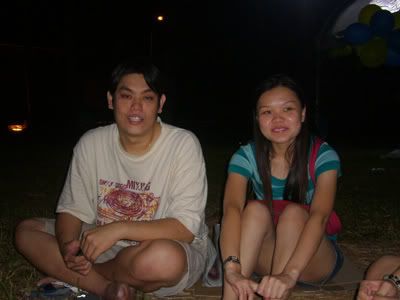 This is Ah Loon and Ah Suan, they've been together for 10 years already!!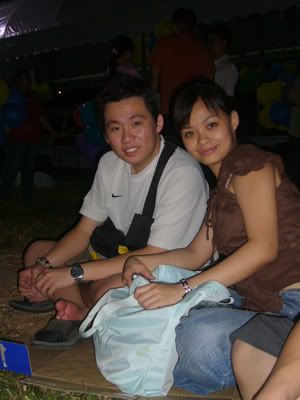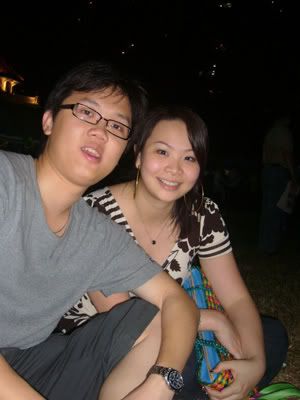 A must-shot of me!


Penang
people were very co-operative when it came to spraying the can of you-know-what thing. It started from the front part of the stage and continued row by row, it was like they've gone through a rehearsal! It looked like the wave kind of pattern you see in performance, I was amused!

But the disappointing news is, after the 5, 4, 3, 2, 1!!!! Happy New Year!! There were no fireworks in sight! There were no fireworks on
Gurney Drive
!!! It can be heard, but it can't be seen, reason being, the fireworks are on the other side of a building!! I'm not sure whether those are for people on the beach to see or not cause obviously we can't see nothing!

After the counting down, we had several bad experiences too. Firstly, it was the walkway out from the beach was small, so imagine the bottle neck problem. The thing is, nobody wanted to give way to nobody! People from both directions pushed each other and in the end now one got to move at all. The situation was so dangerous because the ground we were standing on was of rocks and tidak rata, so if you accidentally be not careful enough, you'll sprain your ankle or fall and bleed and being stepped over by thousands of people and die, on New Year's Day!

Then, after waiting for 2 hours in
Gurney
Plaza
for the traffic congestions in the parking area, it was still jammed! And I don't quite understand why some people have to hold onto their honks when they can't move! Will the flow of the traffic be better if they honked? Stupid brainless uneducated siao langs!

The next day, we went to Prangin Mall to shop but bought nothing, and
Penang Street
to eat. The rest of the itenary was eat, eat, eat and eat. So many things to eat meh? No lah, keep eating almost the same things lah actually.
At night, I was angry with Yi-Shen because he shouted at me for no reason. He didn't pujuk me right after that and that lead to us not talking the whole night and the whole next day. I almost cried for 2 times because I felt very angry and sad when I see Julian and Su being so loving when my good boyfriend never even care to 'tam' me.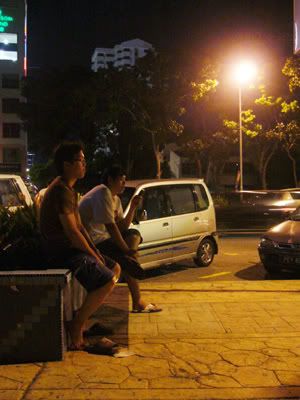 See........................
We took the ferry back to Butterworth.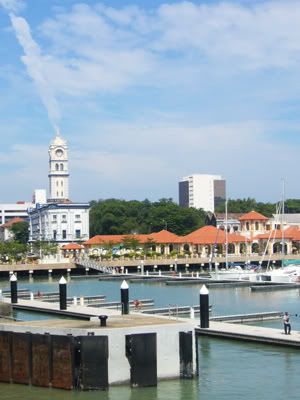 Can you bear seeing this? How often do we get to take ferries from
Penang
and I can't take pictures with someone who loves me (not)?? I was damn pissed man! Can't he come and talk nice to me, at least try harder?
Haih.......